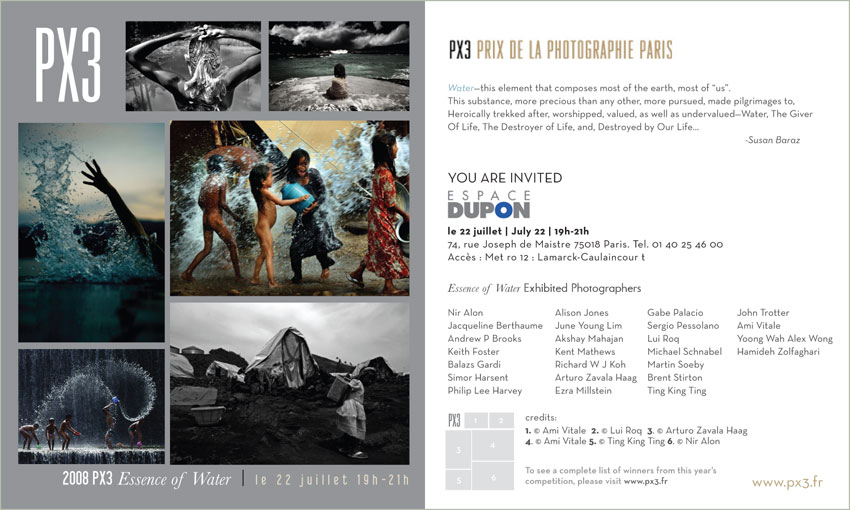 Espace Dupon presents
Px3 Essence of Water Winners Showcase
July 22 - 25, 2009
Opening Reception: Wednesday, July 22, 7-9pm
Photography by Balazs Gardi, Brent Stirton, Simon Harsent, Kent Mathews, Richard W J Koh, Arturo Zavala Haag, Ezra Millstein, Gabe Palacio, Ami Vitale, Martin Soeby, Andrew P Brooks, Alison Jones, Nir Alon, Akshay Mahajan, Jacqueline Berthaume, Phillip Lee Harvey, Michael Schnabel, Hamideh Zolfaaghari, Keith Foster, Lui Roq, JuneYoung Lim, Sergio Pessolano, and John Trotter
Espace Dupon is proud to partner with Px3 Prix De La Photographie Paris in showcasing the winning photographers of the 2009 Essence of Water photograph competition. This group show features twenty-three International photographers and was expertly curated by Susan Baraz , whose vast photographic endeavors include; serving co-chair of the Lucie Awards and Head of Judges for the International Photography Awards.
These outstanding images portray Water, and the various ways it affects life on our fragile, thirsty planet. Depending on where you were born, Water will play a huge part of your day. One would risk death, to acquire a small bucketful---or thoughtlessly squander it in the simple act of brushing ones teeth. Water is an instrument for fun, work, energy, healing, killing, soothing, torturing, quenching, praying and sanctifying.
"Captured in these compelling photographs, is the intimate, but tenuous, relationship with the REAL elixir, sustaining our world. Water, like any great relationship, must be nurtured and cared for, as if our very lives depend on it--Because it does. Water, The Giver Of Life, The Destroyer of Life, and, Destroyed by Our Life," says curator Susan Baraz.
The Prix de la Photographie Paris (Px3) strives to promote the appreciation of photography, to discover emerging talent, and introduce photographers from around the world to the artistic community of Paris. Px3 is currently taking submissions for its next photographic endeavor the Aftermanth competition. Please visit http://px3.fr/ for more information or contact Ashley@Px3.fr .